GoneDragRacing.com's Racing News, Events Archives:
Archived Race and News Results From 2008:
Spotlight On The Northeast's Season Champions:
Northeast Champions Set To Defend Their Titles:
Joe Newsham / Outlaw 10.5 Champion:
What can you say about this "Heads Up Warrior" of 10.5 racing other than he's proved himself in many ways to the point of capturing three titles including The Outlaw Street Racing Associations "ORSCA" battle as points champion, Cecil County's Street Car Shootout Series champion by Finishline Performance, The J & E Performance Quick 8's champion at Atco Raceway.

On The Heels of these championships Newsham also won the largest and most recognizable victories of the year winning the northeast's infamous Shakedown at E Town in the J & E Performance Twin Turbo Cobra in 2008 defeating the unbeaten champ Tim Lynch.


Newsham has been a standout in the racing arena by keeping himself in the spotlight but not letting it go to his head with performance that speaks for itself, His honors come from being a racing friend and competitor are well know.
The teams crew of Ed Harper and Chris Cline from Injection Connection made Joes ride so consistent it took all challenging teams to be on their game to at least take a shot at Newsham in the opposing lane. Newsham credits reach much farther than just this year, prior to 2008 his standing as an opponent was more than well known as the man to beat as Outlaw 10.5 was becoming more popular.

The team of J & E Performance is readying the car for another season featuring more power and a series schedule that will again devastate competitors.

T.J. Kasper: 8.50 Index Champion


You'd think that seasoned racers would have the upper hand on the youngster just starting out in a heads up class that is this fast; a class designed to be a precursor to the Outlaw 10.5 racing's up and coming competitors.

T.J. Kasper may have proved everyone wrong taking home three titles in 8.50 Heads Up Racing throughout the 2008 season. Most have seen promise from racers before but nothing in years by a man of this caliber coming from a family that eats, sleeps and breathes drag racing and family participation with his own father "Tom" and Uncle Todd both racing in heads up to this day and


T.J. following in their footsteps all along the way with titles previously as a Jr. Dragster track champion. T.J. Kasper took on all challenges and fought tough on both ends of the track with his titles at Atco Raceway, Raceway Park and Cecil County as the 8.50 Index Series Points leader. Fans of this now proven racer had no doubt of his capabilities as other racers would soon find out as the season closed, this man can race and the team of Christy / Kasper Racing is a force now with T.J also having spent time in his fathers Outlaw 10.5 Lincoln, he knows big speed and will surely find a way to possibly do double duty at events in both classes.

Blasi Racing: Northeast Outlaw Pro Modified Champion


We've all been taught to be patient and it will come to you in the end with prosperity, this was the year for Team Blasi Racing with father and team captain "Bob" showing his son what time and effort will do for him as Jeff Blasi took the title of the Northeast Outlaw Pro Mod Associations point's championship home.

Jeff drove the Musi powered Corvette to a top points standing in this group of racers built on outlaw style rules and tour the area tracks as a new school "Wild Bunch" featuring themselves as a show for fans of the fastest door slammer racing in the northeast.




Down south there are many more opportunities to find races and competition but the northeast has had its limits until a couple of years ago. Prominent now is Pro Modified racing making a huge break to the top of the racing features and you'll find Blasi Racing again charging up the ladder of points and wins to try and fend off the surge from competition on the opposite side of the track.



October 2nd, 2009: Englishtown 8.50, 10.0, 11.50 Index Race
Cool air, close races as only 2 Index races remain in the season
Brian Moody already has one 11.50 Index win in his pocket for this season, he was looking to make it #2 again tonight. He makes a statement with an 11.503 pass in the second round of qualifying to secure the #1 qualifier spot for the night. However, Brian cut his racing night short after a red light in the first round. Ellis Gray was running great all night, so was Awesome Don Amesen. Ellis and Awesome Don went to the finals, with Gray coming out on top after drilling the tree with an .020 light and a nice 11.535 pass.


We saw a new face in 10.0 tonight, that of the black S-10 pickup of Chris Cassidy. Cassidy goes #1 qualifier for the night, but right behind him were two seasoned 10.0 racers, the points leader Mike Romeo at #2 and Chris Ely at #3. These two racers made it all the way to the finals through some stiff competition, battling each other for a shot at the win. Mike treed Chris and that was all he needed for a win. Romeo gets the holeshot win over Ely, with a 10.063 pass. Romeo has all but sealed up the 10.0 Index championship for the year at Englishtown with two races remaining.


We saw a few extra faces in the house tonight for 8.50, with the Shakedown at E-town looming only 2 weeks away and some folks came down for some testing. Joe Alagna goes #1 qualifier with a nice 8.520 pass in the first round of qualifying. Shawn Gallagher goes #2 for the night, the Gallagher brothers always competitive in 8.50. Mike Conway and TJ Kasper raced a tough group of 8.50 Index teams to make it to the finals at the end of the night. As the tree dropped, both racers mashed their gas pedals, except Kid Kwik TJ Kasper didn't go anywhere as his throttle cable snapped. Conway sailed away for a win, Kasper remains #1 in points as he paced Conway all night.

Detailed news along with pictures and videos from the race can be found in our forums by clicking here.

The 6th Annual Al-Anabi Racing Shakedown At E Town 2008:
The Quickest and Fastest Weekend In Outlaw Drag Racing History:


Presented by Speedtech Nitrous Systems:

As Seen In The Pages Of RPM Magazine

After a monumental race last year, not many thought it could get better in the Northeast but behind closed doors Raceway Park was setting the stage for a chance at the biggest event this area will see for a long time. Dave Hance networked trough the country and out into the world with Michelle Marchesse picking up Al-Anabi Racing from Qatar to back one of the biggest payouts and two day events ever.

Old Bridge Township Raceway Park again hosted the many dreams of every racer to take home a huge prize and fight it out in the new format on a national event caliber drag strip which included two separate Pro Modifieds, Outlaw 10.5, Heavy Street, Drag Radial and a new addition, the Outlaw 8.50 Index.

From the beginning of this weekend, Raceway Park was on its game at a level you won't often see committing every resource they had for a race that again would stun the world with each record setting pass. As usual, prep master "Eddie Krawiec" had the track set to bite back like a mean dog and give you the best ride of your life. The Northeast is always a guess at how the weather would play a role in the weekend performances, last year the 5th Annual Shakedown was run under the most optimal conditions and again they were graced with unusually warm days, cold nights and overcast clouds to cool the track with sessions of brilliant sun breaking through just enough to auto set quarter mile each day.

A record weekend was in store with this forecast; fans and teams were expecting the mineshaft air would produce incredible numbers and they weren't wrong.

View The Shakedown At E Town Photo / Video Gallery Here:

Weekend qualifying in all classes saw the records which stand already at Raceway Park get taken out one by one. With the Pro Modifieds split into the two classes, looking back at the previous bests of each style of power adder, the big dogs of the race had an opportunity not seen before; this was unbridled horsepower at its finest. Outlaw 10.5 was set on its heels last year with Tim Lynch letting the world know that he was the man now in this class. Heavy Street Champ Bill Lutz held the record and it also would fall as would the popular Drag Radial which E Town was hoping for as promoter Dave Hance would participate in this himself.

Lend America Pro Modified Outlaw Blown Qualifying Summary:

Probably the hardest hitting door cars you will ever see is the Pro Blown class featuring the supercharged warriors of the sport and the incredible horsepower they can produce and control even with injecting nitrous and other wild fuels into them, only nitro methane has yet to be seen but surely it will show up one day. The screaming whine of screw blowers rocked the townships surrounding area with each pass in this class that included three turbocharged entries in the twenty seven cars running for the class. The bump spot of 6.37 for the sixteen car field was set by PA native Kevin McCurdy and the top qualifier honors going to Scott Cannon with a blistering 5.73 @ 252, notables included that the top six cars were all in the five second zone. A more than scary moment of the race happened at well over 230MPH when the Rupture Street wear GTO blows out a tire and ping pongs off the wall three times coming to rest a mangled ball of chrome moly tubing, driver Scott Filkins walks away unharmed but the race loses a major competitor. The Team of Stanley and Weiss pulled the chutes early to drop a 6.09 on the ladder and the MPH would show it had a five second pass in it also. The turbocharged legend Rod Saboury dipped into the sixes in his "Street Car". A local hopeful for a win in this class was Andy Jensen in the single turbo Camaro fresh and sparkling yet a cracked head would stop him from competing and dash the hairdryer fans hopes.
Speedtech Pro Modified Nitrous Presented by Western Beef Qualifying Summary:
It's fair to say that the power of the nitrous cars now is coming up from past years with new technologies and this set of twenty eight racers would prove it at E Town with a bump spot of 6.50 @ 211 set by the "Legendary Billy Glidden" The end of the sessions were topped off by one of the most impressive feats by a nitrous sniffing ride; Jim Halsey, owner and operator of Cecil County Dragway rang a bell that won't be unrung as he is now the first man into the five second zone as the big 820 cube Fulton powered the McCamis built Camaro to a 5.998 @ 240 with the signature pipes lit pass to top this ladder. Notables included all motor hopeful "John Pluchino" slamming gears in the 815 Hemi Cougar, The "Iceman" himself "Shannon Jenkins" sitting at midpoint and Freddy Scriba in the "Sorcerer" Vette with a stunning 6.05 @ 232 in the two spot. Steve Cossis in the original Cecil County Pro Mod Vette added himself to the list of NY racers, Along with Nick Montana and Vincent Budano. The field is set.
Precision Turbo Super Street Outlaw 10.5 Qualifying Summary:
Probably the most looked at class in Outlaw racing; these cars are the ones that make your hair stand up on the back of your neck when they are announced at this event since all know that Tim Lynch is in the house to defend his title. The three time champion didn't allow the fans to be let down while match racing Billy Glidden in qualifying his first two passes ended in broken transmissions giving Glidden that victory, but his third pass was a thing of beauty as it carried the wheels down the track to a stellar 6.54 @ 218 to sit at the head of the table, with Brad Brand picking up top MPH at 219 right behind Lynch as Bill Futch might have had more in the bank throwing out the laundry early yet still laying down a 6.68. Raceway Park announced it would be an all run field as Terris Hicks was at the bottom of the ladder. Notables included the return of Leo Barnaby not missing a beat since his hiatus, Anthony DiSomma as a hit man, Ed Kowalczyk running the smallest engine in the class turning in a 7.35 while obtaining his license to race this weekend and of course last years presenting sponsor Scott Guadagno in the new Pete Biello Camaro. Team Mobley came well prepared as the top of the field included all power adders compliments of the blown Camaro and the nitroused GTO in a sea of turbos.

K & K Precision Heavy Street Presented by K & S Race Cars Qualifying Summary:

A real chance for the street style cars to shine is this class, Heavy Street is almost anything you can imagine in a street style car, and the field included 38 entrants. Steve Lazzaro literally stole the show with his gorgeous Camaro to set a new record 6.72 @ 215 leading the pack with hometown favorite John Chemen's blown Camaro setting their own personal best 6.83, Bill Laskowsky would sit in the thirty two car bump spot with notables including returning champ "Bill Lutz" trying to keep his crown, class sponsor Ken Doak bringing in two of the most spectacular blown Camaro's. Dave O'Donnell at the wheel of last years class sponsor Harold Caldwell's Fulton powered Mustang. The first ever Shakedown Champion John Schroeder in the same car he won with in 2002. Runner Up of last year's race Jorge Rodriguez showed up to try and gain a winners spot this time around.
Pro Torque Outlaw Drag Radial Presented by Big Daddy Performance Qualifying Summary:
During the past year, names like Wolfe, Vrettos, and Major have been toppling each others records at different events. This year at this Shakedown twenty two cars entered into this class to see who could take out who as even Dave Hance was going to play in this game which really wet the appetites of all involved. David Wolfe shocked the crowd on one of the sweetest passes ever seen in drag radial clicking off a 7.21 @ 201 to take number one spot and knock David Hinzman down a notch to second as the quickest pass of the first session was dropped more when Paul Major showed the Vettes power with a 7.32 @ 203 and couldn't do better. Notables of this class were of course hometown favorite Big Daddy himself, Scott Bitzer, Alex Vrettos, returning champion from last year "Mustang" Mike Modeste and the famed John Balinsky sporting trunk mounted twin turbos.
Western Beef Outlaw 8.50 Index Presented by Finelines Automotive Qualifying Summary:
New for this year is one of the Northeast's quickly rising classes and also the largest of the Shakedown with fifty nine cars trying to get into the running. Many have said this is the new replacement for 10.5 racing without the extreme budget and the surrounding tri state tracks have all seen this and responded well with great "Heads Up" racing. The call for thirty two cars was in order for this high flying group as can be seen in the photos when Neal Heyman launched his 69 Camaro on the bumper and into the wall ending his day Number one qualifier Harry Gerb brought the complete package to the show, taking number one spot with a dead on 8.50 @ 158 in his sparkling Firebird that shows as well as it goes. James Price was on the bump with an 8.59 and these are not bracket cars yet the drivers are exceptional. Notables include the youngest driver and leader in many of the local events T.J Kasper; at less than 18 years of age this phenom has proven his skills, Bill Verzilli also a native of the area brings a bad black Camaro into the game and it is bad. Mike Pyott a big player in the short history of this type of racing comes into the race with guns blazing in his fresh Camaro as doe's best appearing winner Marc Shankweiler. This is a tight group and no one could guess the winner, place your bets now.
Sunday!, Sunday!, At Raceway Park, Let The Race Begin:
Eliminations are slated to begin and all drivers are briefed by "Eddie Krawiec" and Dave Hance on how the race would be run as the drivers meeting was called in the early AM. Krawiec focused on courtesy, sportsmanship, and quality racing with as little downtime as possible; as an NHRA pro stock Motorcycle Champion, Krawiec ran this ship tight. Motors came to life and the taste of victory was on the palettes of all the racers.

Lend America Pro Modified Outlaw Blown Eliminations:

With $20,000 laying on the table for this class the cream of the door slammers would fight it out hard, Tim O'Hare broke Giving John Stanley a bye run, Steve King loses a tight one to Mike Janis, Chip King fights off a major disaster as he is on two wheels across the centerline saving the Daytona but losing to Frank Patille. Tommy Gray has problems and Tony Daprille advances easily.

John Hines hits the wall on his pass but is OK as John Russo screams to a 5.95 @ 245. Barney Squires takes the win over George Landis, Von Smith over Billy Gibson and Scott Cannon over Kevin McCurdy.
Tommy Daprille advances beating John Russo, Von Smith is a winner over Mike Janis, Frank Patille is inline to go another round over Barney Squires, John Stanley is hurt and Scott Cannon gets a bye run.


Frank Patille 6.58 is flat outrun by the Al-Anabi Racing 57 Chevy 5.95 with Von Smith at the wheel. Scott Cannon 5.77 @ 250 out powers Tommy Daprille's Bel-air 6.00 @ 235.

Final Session:

Von Smith Powers through a blazing burnout as does Scott Cannon, Both are in the beams with anticipations from both teams rising with the RPM's, Cannon lets loose early drawing a red light and Von Smith is crowned the champion of the 2008 Pro Blown Class.
Speedtech Pro Modified Nitrous Presented by Western Beef Eliminations:
Jeff Blasi fails to start against Shannon Jenkins, Matt Dietch takes the win over John Bartunek, Milt Decker puts away Steve Cossis, Nick Montana over Burton Auxier, Khaled Al Booshi over John Pluchino in a very close race, Rickie Smith Advances over John Decerbo, Fred Scriba comes back from a killer hole shot by Vinny Budano for the win, Jim Halsey duplicates his five second string and leaves Billy Glidden going home early.
Khaled Al Booshi sends Nick Montana back to the trailer, Milt Decker is beat by Rickie Smith, and Fred Scriba red lights his loss as Matt Dietch takes the win and Jim Halsey again is in the fives over Shannon Jenkins and advances.
Matt Dietch has problems and loses to Rickie Smith who is inline now for the final. Khaled Al Booshi was Jim Halsey's closest race of the weekend with a 6.092 @ 236 while Halsey cannot stop his Camaro from staying in the five second range winning with his best of the day 5.958 @ 240 and right into the finals.
Final Session:
With Speed vision TV covering this final heavily, all teams were nothing but business coming to the line.
Halsey prepared as usual as did Rickie Smith inciting the crowd with wild burnouts, all were standing in the bleachers at this point. Smith gets the .072 light over Halsey's equally good .088, but as the cars travel into the top end Halsey is again on a rope, pipes lit and taking the stripe 5.959 @ 240 and Rickie Smith has the best view in the house for this stunning event show by the new Pro Nitrous Champion Jim Halsey who is $20,000 a richer man and no doubt the king of nitrous for 2008.

Precision Turbo Super Street Outlaw 10.5 Eliminations:

Bill Futch, Brad Brand, Todd Harris and Brad Harris get a free pass as none were challenged because of breakage. Ray Johnson takes a convincing win over Tom Ferrick, Larry Wood overpowers Bryan Markiewiecz, and Joe Newsham pedals out a win over Steve Drummond's high flying Mustang, Chuck Ulsch takes out Ed Kowalczyk in a pedal fest. Both Scott Guadagno and Leo Barnaby have faced each other before at the Shakedown with the quickest side by side 10.5 in history, this time the outcome was in Guadagno's favor as he takes the win over Leo Barnaby. Terris Hicks falters and Tim Lynch is again showing his muscle with a solid 6.56 @ 223. Tim Essick advances over John Carcinco.
Tim Lynch 6.53 @ 221, Joe Newsham 6.74 @ 215, and Tim Essick move ahead with no opponents. Scott Guadagno is handled by Bill Futch with an amazing 6.54 @ 220, Richie Sexton takes a hole shot win over Larry Wood, and Ray Johnson makes a strong run past a pedaling Brad Brand.
The battle of the turbo stangs rears in this round beginning, Ray Johnson is the winner over Tim Essick; Tim Lynch sets another Shakedown milestone with a 6.49 @ 224 over the nitroused GTO of Richie Sexton, Team Mobley is out of the big money running. Joe Newsham puts down Bill Futch in a big inch twin turbo match.
Ray Johnson takes a bye run and is looking now at the match between Newsham and Lynch for who he will face. Joe Newsham cuts a stellar .034 to Lynch's .088, Newsham is out but Lynch is up on his tires desperately trying to recover, Newsham takes the stripe with his best ever 6.67 @ 219 and into the money final.
Final Session:
Last year neither Joe Newsham or Ray Johnson even qualified, both broke before they made a qualifying pass and now they are looking at the championship. Newsham allowed more time for Johnson to prepare as he didn't want to single to a win and Johnson made the call in time. Both were feeling the pressure as Newsham .152 makes sure he doesn't red light as does Johnson .095 and a race is on, Newsham is out of shape and brings it back in to take the win over Johnson 6.91 @ 207 to Newsham's 6.81 @ 213. Joe Newsham dethrones Tim Lynch after his string of victory's in one of the toughest 10.5 races in the country and receives the $10,000 Champions title of 2008.
K & K Precision Heavy Street Presented by K & S Race Cars Eliminations:
Jeff Paulk over Joe Schroeder, Rocky Dilecce over Dale Collins, Chris Connor over Keith Talbot, Dave O'Donnell over Yanni Papakosmas, John Cerbone over Rich Scioscia, Gary Naughton over Mike Trimandillis, Bill Lutz over Brenda Paddock, Bo Butner over Mitch George, Gan Fielder over Sam Gottier, Rob Golobo over Ray DeAngelis, Jorge Rodriguez over Charlie Boy Micaleff, John Cheman over Rick Golobo, Steve Lazarro over Bill Laskowsky, Louis Martinez over Frank Pompillo, John Schroeder over Pete Pace, John Fisher over James Araujo.


Gary Naughton, Jeff Paulk, Dave O'Donnell, John Cerbone, Steve Lazarro, Rocky Dilecce, John Cheman, Jorge Rodriguez all move on with a win.

Frank Lazarro, Jorge Rodriguez, Jeff Paulk, Rocky Dilecce all advance to the semis.
Jorge Rodriguez hopes are gone when Rocky Dilicce gets the big Chevelle moving for the win, Jeff Paulk is out by way of Frank Lazarro and a final is set.



Final Session:
Frank Lazzaro looked like he was utouchable with his 69 Camaro and suited to face Rocky Dilicce the champion from Canada.

Dilecce was plauged with minor throttle cable problems all weekend the final came to him as the team was trying to replace the transmission.
Lazzaro wanted to wait for an all "Great White North" final but time wouldn't allow it and Lazarro makes his solo run for the $5,000 win money and the new 2008 Championship title.
Pro Torque Outlaw Drag Radial Presented by Big Daddy Performance Eliminations:
Mark Southwell, "Big Daddy" Dwayne Gutridge, Scott Bitzer, Jay Anderson, "Mustang Mike" Modeste, Glennie Buckler, Alex Vrettos, Dave Hance, Paul Major, Dave Hinzman, Chris Little all advance in this large field.

Chris Little, Paul Major, Dave Hinzman, "Mustang Mike" Modeste, Glennie Buckler, Dave Hance are all a winner in this round.
Dave Hinzman resets the Drag Radial record to its lowest setting taking out a wheel standing Chris Little, this 7.18 @ 200 is a milestone in this outrageous class and a tough one to drop anytime soon. Glennie Buckler advances into the final uncontested.


Final Session:

A Cinderella weekend for Dave Hinzman when he finds himself the in the final with Glennie Buckler who hasn't come close to Hinznman's bracket like performance.

Buckler is taken down 7.83 @ 163 as Hinzman can ease off on the top end and take the Championship of 2008 in Drag Radial.
Western Beef Outlaw 8.50 Index Presented by Finelines Automotive Eliminations:
Competition was like none other as the real advantage is at the light and not a single car in this class dropped the dreaded red bulb to oust themselves, all runs were side by side wheel standing action. A major upset was young TJ Kasper taken out by the wiley veteran Bill Verzilli. Number one qualifier Harry Gerb was beat on a hole shot by Bill Cannon. Brain Mitchell, Jason Penwa, Brian Ferrari, Rockin Rob Cherkas, Shawn Gallagher, Joe Alangna, James Price, John Goss, Darren Harris, Bill Cannon, Rob Poochigan, Mark Bowen, Andrew DeMarco, Mike Pyott, and Robert Baptista all advance with tight racing.
James Penwa, Rob Poochigian, Bill Verzilli, Joe Alangna, take their wins, as Rockin Rob upsets Mark Bowen, John Goss again wheel stands his way to the 1/4 finals, and Bill Cannon is dead straight on making a final with stout performances.
John Goss, Brian Ferrari, Bill Verzilli, and Bill Cannon all advance. Rob Poochigian saves his immaculate Chevelle from impending disaster with the wall incredibly.
Down to the final four and the money rounds, Bill Verzilli shreds the ring and pinion losing his hopes for a win as John Goss takes the stripe; Bill Cannon forces Brian Ferrari to break out trying to recover from Cannons hole shot .008 light.

Final Session:

Maryland native Bill Cannon see's light at the end of the tunnel as does John Goss who are now in the limelight and geared for a great final. Cannon trips the tree.08 and John Goss leaves early with a re light start giving away the $5,000 in prize money and Bill Cannon is crowned the first ever Outlaw 8.50 Index Champion of 2008. The 6th Annual Al-Anabi Racing Shakedown At E Town 2008 Weekend Recap:



Dave Hance, the supporting and presenting sponsors couldn't have asked for a better representation at Raceway Park for this two day event, all the stars were in alignment for the weekend. The rise of new champions, the fall of champions from years past shows the level of competition at this event. It looks like the Shakedown has backed up last years previous record of the best race in the Northeast and it will stand now as the hottest ticket coming next year.

Official Shakedown At E Town Website

The Atco Raceway 2008 Outlaw and Index Series Season Finale' 2008
The End For A Season Of Champions:

Sponsored By: Franklin Trailers Inc., J & E Performance, C2it Enterprises, The Speed Shop at Atco, featuring Outlaw 10.5 Points by Harris Industrial Park.com

It's no doubt that this season past was filled with incredible highlights by racers working at recording their "best of's" all throughout each series. Atco Raceway's Season Finale' has always come deep into the fall as the pines surrounding the area are merged with the colorful change of leaves bursting again under sunlit skies on this Sunday. Crisp morning air found the gates opening and race cars pouring in to battle in the dense air of New Jersey.
Two spectacular qualifying rounds for each class moved through quickly with little to no downtime as all cars were race ready and seasoned to perfection. A heavy rain the day before washed down the track a bit but the sun burned it off and the hook was back where it needed to be as the competition will show in the results below. It was all out heavy hitters on Sunday At Atco: Please Read On:
View The Outlaws At Atco Photo Gallery Here:
Gunning for the big numbers in the brisk air two full rounds required the track hold all this horsepower down and the drivers knew the outcome if they needed to pedal or stay in it to get into the ladder. Outlaw 10.5 was not the first class down the track so the rubber from previous rides was a touch that was needed and the groove was built. Brad Harris suffered some transmission issues that left him holding the tow strap back to the pits twice though thrashing was part of their day, cooperation between the trans and car just wasn't happening. Larry Wood also took Ron Schlessingers twin turbo Mustang down the track but would fail to qualify. Tony Myrie's nitrous injected Chevelle had the power but fell into the bottom half of racers not in the ladder. Ed McClanahans Mustang also found it not coming in for his ride also. Bill Mitchell, still working on the new BBC twin turbo setup was making huge power but as with any ride this fresh and untested, it was not going to make the rounds in qualifying. Todd Harris set the bottom of the ladder with big cube Hemi twin turbo GTO as the wave of singed Alcohol breezed through the air. Daniel Fieldes and his little box Nova entered the seventh spot with it pushing into the strong headwind. Mike Dorta's little Chevy Monza surprised many taking the number six hole. "Turbo" Tom Kasper stepped into the throttle and the number five spot with a "hitting the dots" slowed pass. Long time friend and favorite belt driven Mustang of Rick Fedorovich made his run look easy as it screamed into place four. "Hitman" Dave O'Donnell wheeled Harold Caldwell's extreme Mustang into the number three spot with wheels high and Fulton power singing for 1320 feet. Craig Pio set the stage early for what was needed as he blistered through the traps at 205 with a 7.066 shining on the boards. Joe Newsham, leading the Harris Industrial Park.com point's series wasn't going to shy away from anyone's performance posting "the number" for the top spot with an awesome twin turbo blast into the six second zone 6.944 @ 210.37. The stage is set.
J & E Performance Qualifying and Racer Information:
1 :Joe Newsham 6.944 @ 210.37 : 2003 Mustang Cobra, 540 BBC, Twin Turbo, Glide - J & E Performance, Injection Connection, M & R Products - Restraints and Tie Downs, Imperial Design, Montana Brothers Race Cars, Performance 2 Way Communications
2 :Craig Pio 7.066 @ 205 : 95 Camaro, BBC, Twin Turbo, Glide - Montana Brothers Race Cars
3 :Dave O'Donnell / Harold Caldwell "Owner" 7.163 @ 197 : Caldwell Construction, CD Race Cars, Vanishing Point Race cars, Jiffy Lube,Fulton Racing Engines, HP Marine, NerdsRus, Mickey Thompson Tires, Killer Kreations Custom Paint, Wayne Keegan, Competitive Wiring
4 :Rick Fedorovich 7.388 @ 200 : 2001 Cobra, SBF, Procharger, T400, Alcohol - Second Street Speed "Tuner Peter Unanue" / Carrol's Rod and Racecraft
5 :Twin "Turbo" Tom Kasper 7.478 @ 199 : 94 Lincoln, 422 SBF, Twin Turbo, Glide - Kaspers Certified Automotive / Kaspers Korner, Precision Turbo, Moore Racecraft, Rocco's Collision.com, Cal At Hartline Performance
6 :Mike Dorta 7.527 @ 184 : 1979 Chevy Monza, BBC, Nitrous, Glide
7 :Daniel Fieldles 7.548 @ 190 : 66 Chevy Nova, BBC, twin turbo, Glide
8 :Todd Harris 7.574 @ 153 : 2006 GTO, 738 Chevy Hemi, Twin Turbo, lenco - Harris Brothers Motorsports / Harris Industrial Park.com, Dave Kogan Motorsports
9 :Bill Mitchell 8.489 @ 153 : 1996 Chevy S10, Twin Turbo BBC, Glide - The Repair Shop, Coast Chassis Design
10 :Ed McClanahan 8.730 @ 134 : 1990 Mustang, No Information
11 :Tony Myrie 9.205 @ 174 : 67 Chevelle, 632 BBC, Nitrous, Glide -
12 :Larry Wood / Ron Schlessinger (Owner) 17.64 @ 207 : 1989 Mustang, SBF, Twin Turbo, Glide - Wild Rides Chassis, Glenwood Performance
13 :Brad Harris 23.758 @ 000 : 03 Cobra Mustang, 421 SBC, Single Turbo, Glide - Harris Brothers Motorsports / Harris Industrial Park.com, Injection Connection
The J & E Performance Outlaw 10.5 Eliminations Round One:

Tony Myrie enters into the first round of eliminations after replacing Tom Kasper whom on his second qualifier blew a head gasket on the top end with an incredible save; swapping lanes at well over 190MPH. Myrie would face Mike Dorta's Monza. The little Monza was extremely late on the tree 1.270 to Myrie's .061. Myrie takes the win pedaling the car to a 7.94 @ 184. Daniel Fieldles drops a .100 light on Rick Fedorovich's .277 easily staying his course with a consistent 7.51 @ 194 to Fedorovich's losing 10.90 @ 82. Todd Harris moves into the ladder as Dave O'Donnell couldn't make the call facing off with Craig Pio. Harris is on with a .040 but Pio has a .019 on him with reaction time. Harris starts adding power in and out of the throttle to the brutal GTO and pulls away from Pio on the big end in a haze of Hemi compressed alcohol posting his best ever ET 6.88 @ 205 to Pio's 7.10 @ 204. Final pairings would again include an alternate Bill Mitchell's fairly untested S10 against Joe Newsham's proven Cobra. Mitchell shows how a tree gets chopped down in Outlaw Racing with a stunning .001 to Newsham's unusually lazy .108. Newsham 7.11 @ 196 shuts off early on the top end as Mitchell 8.13 @ 183 breaks the tires loose losing this round.
The J & E Performance Outlaw 10.5 Eliminations Semi Finals:

Daniel Fieldles earns a bye run as Todd Harris fouls. The glaring difference between the next two to stage is the boxy Chevelle of Tony Myrie on nitrous with wild paint and Joe Newsham's sedate Cobra slick and gleaming is evident. Myrie .054 is good off the tree as is Newsham .079. Myrie losses traction 300ft out as Newsham is again on his way to a winning pass ousting Myrie 10.052 @ 144 to Newsham's screaming 6.95 @ 210.
The J & E Performance Outlaw 10.5 Eliminations Finals:

After coming off a Huge win at The 6th Annual Shakedown at E Town taking out the best; one by one, wrapping up The Cecil County Street Car Shootout Points title, Atco's Points title, and in a direct heat with Jimmy Blackmon in the ORSCA series; Newsham looked like a lock against this newcomer Daniel Fieldles. Both prepared to stage as Newsham's pedigree for the year was well know to Fieldles but he was in a fight for this title on Newsham's home turf. Newsham went into the beams, set the brake and inexplicably bumped through giving Daniel Fieldles his first win of the season before the race even started. This new Season Finale' Champ only 22yrs young faced the best in the northeast and came out the champion 7.89 @ 181 taking home the big check. All things in racing can come to those who wait and this was a big one for Daniel Fieldles. Congratulations!!
The Outlaw 8.50 Index Qualifying Sessions:
Kaspers Korner Racing / Kaspers Certified Auto, Injection Connection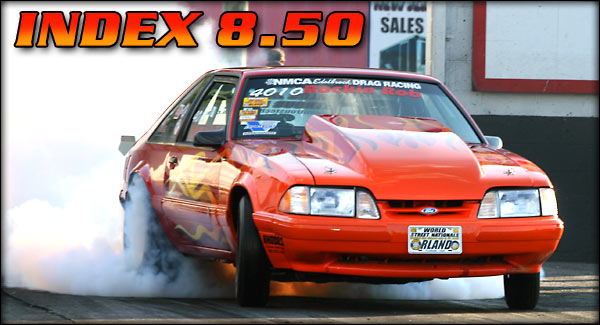 The 8.50 Index was before in "it's coming of age stage" but now the close competition and wild antics of these cars have matured into a class most talked about by sportsman racers and more. The growing popularity can be sceen in the exciting action that even qualifying can bring to a spectator, old school "Heads Up" Racing was put in the forefront today. Both sessions had their ups and downs literally. Giant wheelstands, Smokey burnouts, broken rears trying to grab all the track they could and teams dressed to a professional status made this class outstanding to anyone viewing. Twenty three cars entered and only sixteen would have a shot at the winners purse and Season Finale' Champ status. Craig Buscio earned the number one spot by drilling a dead on 8.502 @ 158 with Mike Cerminaro's Procharger equipped Chevy II filling in the bump spot at 8.635 @ 157. Only .133 separated sixteen cars this Sunday.
Kaspers Korner Racing / Kaspers Certified Auto, Injection Connection Qualifying and Racer Information:
1 :Craig Buscio 8.502 @ 158 : 1962 Chevy II, 598 Henry Jackson BBC, Nitrous, Glide - Pro Car Performance, Competitive Wiring / Wayne Keegan
2 :"Rockin" Rob Cherkas 8.508 @ 163 : 1993 Mustang, SBF, Nitrous, Glide - Precision Nitrous Technologies, Your Way Network
3 :Mark Schankweiler 8.517 @ 159 : 1967 Chevy II, 421 SBC, Nitrous, Glide - CD Race Cars, Bear's Performance, Jet-Hot Coatings, Mickey Thompson Tires, Clark Industrial Supply
4 :Mike Conway 8.526 @ 165 : 86 Corvette, Auto, Nitrous
5 :Shawn Gallagher 8.530 @ 162 : 79 Mustang, SBF, Nitrous, Glide
6 :Mark Bowen 8.534 @ 157 : 72 Nova, 540, BBC, Nitrous, Glide - J & E Performance
7 :Bill Verzilli 8.538 @ 162 : 1969 Camaro RS/SS, Henry Jackson 632 BBC, 4BBL, T400 - Henry Jackson Racing Engines, J & E Performance
8 :Rob Poochigian 8.542 @ 161 : 1967 Chevelle, 569 BBC, Nitrous, T400 - MRP RACING, Steve Schmidt Competition Engines
9 :Tom Romeo 8.571 @ 165 : 70 Nova, BBC, Nitrous, Team ADD Racing,Romeo Brothers Racing
10 :Tony Russo 8.572 @ 159 : 1973 Dodge Dart , 440 BBM, All Motor, Rossler Turbo 400, M/T ET Street - My wife Joan, sons Joe, Mike, and Family, My friends Red, and Lou - Albert Kemperle Auto Body Supplies.
11 :Rob Puller 8.577 @ 157 : 1986 Camaro, SBC, Nitrous, T400 - Finishline Performance
12 :John Razler 8.580 @ 159 : 1968 Camaro, BBC, Glide, Nitrous - Extreme Performance Transmission's, Bammann Racing, R & M Towing
13 :Angelo Valla 8.595 @ 163 : 72 Corvette, BBC, Nitrous, Glide
14 :Al Fonse Jr. 8.595 @ 159 : 93 Camaro, SBC, Nitrous, Glide - Fonse Performance
15 :TJ. Kasper (Owner Dot and Gil Christy) 8.606 @ 141 : 1988 Mustang, SBF, Nitrous, Auto - Kaspers Korner / Kaspers Certified Auto / Southern Outlaw Shops Racing Wings, Merkel Racing Engines, Pellegrino Auto Body, Wicked Image Design
16 :Mike Cerminaro 8.635 @ 157 : 1970 Chevy Nova, SBC, Supercharged, Glide - Rhodes Custom Auto
17 :Robert Romano 8.886 @ 151 : 1969 Dodge Dart, BBM, Nitrous, T Flite - Big Time Automotive
18 :Frank Lupi 8.896 @ 151 : 87 Pontiac Firebird, SBF, All Motor, Glide
19 :Mike Boccella 9.011 @ 166 : 1993 Mustang, SBF, Nitrous, Glide - Boccella's Performance
20 :Chuck Kelly 9.011 @ 152 : 1993 GMC Sanoma, SBC, Nitrous, Glide -
21 :Bill Gorafsky 9.038 @ 147 : 1968 Camaro No Information
22 :Patrick Doyle 9.37 @ 145 : 1957 Chevy, SBC, Supercharged, Glide, Team ADD Racing
23 :John Goss 9.73 @ 148 : 1978 Z/28 Camaro, 509 BBC, T400 - Nico Racing Engines / Goss' Plumbing and Heating
Kaspers Korner Racing / Kaspers Certified Auto, Injection Connection Eliminations Round One:

Mark Bowen opened the eliminations against the mean Camaro of Al Fonse Jr., Bowen cracks the tree with a .003 light and a tough to beat 8.568 @ 157 while Fonse took a good shot at the veteran .025 8.578 @ 159. John Razler comes into the round probably the most decorated racer of 2007 and a force in the 8.50 Index to run off with Mike Conway. Conway drops a .007 light to Razler's .029. Razler's quicker 8.583 @ 257 wasn't enough to stave off Conway's brilliant 8.598 @ 157 efforts. Mike Cerminaro has a hard time getting the boost going and leaves deadly late .332 to Rob Poochigian's excellent .036. Both Chevy's powered down the track but Poochigian wouldn't give up the stripe as his 8.717 @ 145 was enough to beat the quicker 8.522 @ 160 of Cerminaro. Tommy Romeo goes dead red -.027 giving up his chances for more rounds to Craig Buscio who ran it out as the win light is on his side already 8.482 @ 157. "Rockin Rob" Cherkas met with Tony Russo putting the big Mopar up against the little Stang. Russo's qualifying stunts were dramatic with big wheelstands and great numbers but the big Mopar wedge motor decided it was time for a rest as smoke poured from the exhaust and the car struggled to the finish line while Cherkas in the other lane launched wheels up on an ultra clean 8.551 @ 158. Both Opponents in this round seem to meet early and are both equally deadly in this class, TJ Kasper and Bill Verzilli. Verzilli launched hard but as quick as that happened the death rattle of a broken driveline component ended his pass leaving Kasper to cross the beams with a .007 light and a "Kid Kwik" stamped 8.750 @ 128. Rob Puller's lean, clean Camaro in striking red took a later light .076 than opponent Mark Schankweiler .035 whom in his lane the box Nova reached for the sky coming down hard and slightly crossed up out of the groove but staying in it was worth it as his 8.714 @ 156 was enough to take the win from Puller 8.74 @ 159, the fans appreciated this race standing and cheering. Shawn Gallagher comes into the rounds also a threat and proves he has the go and skills dropping a .006 on the tree finishing with a 8.552 @ 149 to a red lighting Angelo Valla -.009 trying a bit too hard. A great start for the rounds to come.
Kaspers Korner Racing / Kaspers Certified Auto, Injection Connection Eliminations Round Two:

Again; Mark Bowen is eager to be first in line as the rounds open, his work all year has been stunning but an opponent who has shown his muster was waiting in the lane next to him. Bowen chops down the tree .003 as "Rockin Rob" Cherkas has some ground to gain .069. Both racers would break out but Bowen would be the worse of the two 8.451 @ 156 while Cherkas takes the win 8.483 @ 163. TJ Kasper and team captain "Tom or dad if you will" knew they had a good race with Mark Schankweiler in the opposite lane. It was all business as the nasty green and black rolled in with Tom Kasper leading him in. Schankweiler and team were also capably handling their end in the lane next to them. Kasper is again awesome on the tree .008 to Schankweiler's good .048, a run to the finish was decided as Kasper's 8.507 @ 144 was numerically unbeatable and Schankweiler falls with an impressive round result 8.517 @ 159. Mike Conway stuns many time class champ Rob Poochigian on the tree .010 to Poochigian's .034. Both racers break out also with Conway coming up the winner 8.498 @ 158 to a losing effort of Poochigian 8.473 @ 161 cranking out some nitrous assisted power. Shawn Gallagher shoots himself in the foot leaving early -.015 giving the race away to Craig Buscio who seems that he forces his opponents to take measures on the tree they usually wouldn't with his performances. Buscio runs the Chevy II out the back door again 8.459 @ 159 in the cooling air.
Kaspers Korner Racing / Kaspers Certified Auto, Injection Connection Eliminations Semi Finals:

With the sun dropping early from the daylight savings time, the cooling track and dense air was bound to improve performance and the tuners needed to step up when big power and power adders are combined applied to the rides. The seriousness in the lanes by the teams was growing with expectations since all involved were a threat to each other top end and on the tree. Mike Conway faced off with "Rockin Rob" Cherkas, with "Dave Acker" handling the tuning and staging of the Mustang and Wayne Keegan also on track with Mike Conway. Conway rips an excellent .016 light on Cherkas .069 but power falls off on the Vette 8.943 @ 124 as Cherkas moves into the final. TJ Kasper was to be paired with Craig Buscio's Chevy II in an anticipated race of friendly yet competitive opponents. Buscio's car fails to start and TJ Kasper had waited as long as the starter would allow looking for a side by side race, Buscio's Cinderella day was over. Kasper took on good shot at the tune pass and clicked off a .003 8.48 @ 158 for another final round which has been so familiar this year for "Kid Kwik".
Kaspers Korner Racing / Kaspers Certified Auto, Injection Connection Eliminations Finals:

Both Mustangs represented the colorful aspect of this class, the gleaming flamed Mustang of "Rockin Rob" Cherkas and the spotless black and green Graphic's on TJ Kasper's ride. Little did Cherkas know that Kasper's transmission had seen its last pass the round before turning into mush with no second gear. TJ would still give it his all but that quickly vanished with a -.007 light handing over the race while assuming the vertical position of a huge wheelie bar crushing wheel stand on the hit which Kasper will not soon forget. Cherkas in the opposing lane still had what it took with the expert tuning of "Dave Acker" and Cherkas' improving driving skills. A time of 8.80 @ 135 was the wining lottery number for "Rockin Rob" as he finishes off as Atco's 8.50 Index Champion. In the winners circle "Rockin Rob" which in most cases is never at a loss for words only stating it has been a long time since he'd been there and quoting him; "Dave Acker's Plate System and exclusive tuning tricks from Precision Nitrous Technologies was the Key Factor" in his win. Congratulations to "Rockin Rob" Cherkas on an intense win and performance to finalize this year at Atco's Index Series.
The The C2it Enterprises 10.0 Index Qualifying Sessions: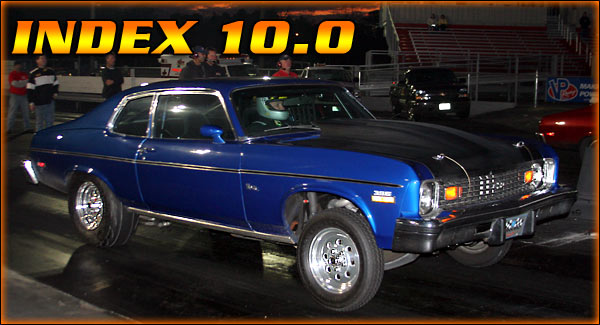 Formidable cars, street appearing and awesomely entertaining with competition close within thousandths of a second in most races is all a fan can ask for. These cars are wickedly fast and accurate on almost all passes so you better be on your game. Qualifying is quick for these cars as is in the latter 12.0 class also by C2it Enterprises. They get their runs in and as soon as they are off the track two more pull up. One of the largest gathering's for this class happened on this Sunday with twenty eight cars in the mix and an all run field was composed.
Mike Romeo headed up the number one spot in the ladder muscling out the BP Speed Bright Green 74 Camaro with a sobering for others 10.005 @ 134, Sam Simpson's brutal S10 powered down a 10.007 while Scott Embly was right behind in the number three spot with another 10.009 @ 131 blast all in the double zero's. Well known to those following this class are some champions of 10.0 racing that included the likes of Mark Plucinski, John Hurst, Harry Weber Jr., Craig Curtis, Brendan Mills, and Lee Grinnell sitting in the sixteen spot sporting fresh paint on the killer wheelie wagon. Ray Wallis Jr comes up short of what could have been a sixteen car field only race but all run puts him in the ladder with notables Carl Ungaro, Bill Dutka, Josh Solomine and last months series champ Cary Cable Sr. in the under class with a 9.980 @ 129.
Click Here For The Full Qualifying Results via Compulink Race Stats:
The C2it Enterprises 10.0 Index Eliminations Round One:

Craig Curtis, Michael Scalfo, and Roy Williams all receive a bye run into the second round. Josh Solimine takes himself out of the running with a -.010 red light in his pairing with "Deadly" Doug Frisch .138 10.039 @ 133. Seth Brown .080 10.166 @ 132 would lose his chance to advance against a strong effort by Carey Cable Sr .158 10.071 @ 132. Both Thomas Wood .055 and Ray Wallis Jr. .044 Ripped up the asphalt launching with Wood's Regal twisting hard, and Wallis' Malibu grabbing for air. Wallis would lose this round 10.249 @ 130 to Woods 10.198 @ 127. Sam Simpson .048 10.008 @ 134 gets beat on a hole shot by the "Grizzly Bear" Lee Grinnell hanging the tires high. Mike O'Sullivan had to play catch up with a .133 and braking out 9.897 @ 118 trying to make up for lost time against the "Yenko" styled Nova of Paul Latturulo .067 10.093. Shawn Abate dropped the red bulb -.068 losing to John Hurst as the 74 Nova was on a good pass .125 10.058 @ 134. Carl Ungaro and Mark Plucinski have seen the winners circle many times; their performance will show as Plucinski leaves with an .020 light to Ungaro's .019. Ungaro would take the win 10.215 @ 119 to Plucinski's losing effort 10.259 @ 135. "Supercharged" Brendan Mills faced the number one qualifier Mike Romeo in this round, both worthy opponents but unlike Romeo's past work on the tree, he had a red bulb showing -.143 for the loss as Mills advances under pressurized power .026 11.287 @ 81. "Bad Bill" Dutka poured on the power just a little too much breaking out .032 9.900 @ 123 while Alan Von Ahnen would have the winning number .060 10.135 @ 131. Harry "The Hulk" Weber would advance with a strong .063 light and trapped at 10.296 @ 161 easing off against Thomas Crow's .115 10.510 @ 126. Bobby Stephenson .077 10.200 @ 131 would put Paul Cattone on the trailer early .165 10.207 @ 137.
C2it Enterprises 10.0 Index Eliminations Round Two:

Thomas Wood opened this round and promptly feels the hurt of an almost unbeatable run by Michael Scalfo. Though Wood was quicker .047 10.064 @ 123 Scalfo's brilliant reaction time .007 and 10.070 @ 133 was a tough combo to beat. Lee Grinnell ended his day Wheels Up against Paul Lattarulo's Nova. Grinnell suffered a .175 light to Lattarulo's .063; Grinnell would have to chase him down and led him to break out 9.982 @ 133 to Lattarulo's winning 10.083 @ 131. A favorite to win, Craig Curtis met his match with John Hurst. Curtis .035 and Hurst .045 had a race on their hands, the top end story tells it all with Curtis making up ground and breaking out 9.988 @ 134 to Hurst's final win number 10.012 @ 134. Doug Frisch would have a hard time beating the package that Carl Ungaro had waiting for him. Ungaro cuts a .006 light and streaks to the top end 10.032 @ 128 to beat Frisch's effort of .060 10.030 @ 133. Bobby Stephenson fell prey to last months Index Champ Carey Cable Sr., Stephenson put up a close race .043 10.177 @ 131 but Cable bettered that .025 10.140 @ 132. After last round Brendan Mills tried to get back in good standing with the tree but when trying as you may, it hurts to see that red bulb come on at -.001 to end your day against Alan Von Ahnen's .018 10.214 @ 131. Roy Williams would make Harry Weber Jr's day much easier in this round handing over the win via red light start. Williams went -.033 to Weber's full pass .046 10.091 @ 132 to finish off this series of eliminations.
C2it Enterprises 10.0 Index Eliminations Round Three:

Alan Von Ahnen takes a bye run still showing some good numbers out of the Mustang 10.115 @ 132. Michael Scalfo would take a chance on the tree in his gorgeous 67 GTO only to see the reflection of red light glaring over the brilliant white paint as the sun was setting -.034 10.09 @ 133 to John Hurst's excellent .058 10.074 @ 133. Carl Ungaro again puts together a run most racers wish for each round as it was unbeatable almost; .004 10.098 @ 122 while Paul Latturulo could reciprocate the same conditions in his lane .041 10.069 @ 132. Harry Weber found on his last pass as the car was in the turnoff that oil pressure was low and began hearing some slight noise, you will never see the Harry Weber "Tap Out", lol for any other reason so his round with Carey Cable Sr. would be aborted and Cable heads to the Semis with a test pass 9.989 @ 136 in the cold air now coming in.
C2it Enterprises 10.0 Index Semi Finals:

Most had already seen how tight the racing was and no one knew more than the drivers that they needed to cut a good light. This set of pairings both resulted in red light starts for Alan Von Ahnen and Carl Ungaro. Ungaro would have faced Carey Cable Sr. .128 9.989 @ 136 and Ungaro had John Hurst solidifying his performance as he had been all day with an exceptional .035 10.069 @ 134. An all big block Chevy final was to come.
C2it Enterprises 10.0 Index Finals:

Carey Cable Sr. had been right here in this spot last month as the champ of the last index race and well deserved as would John Hurst who now was contending for this final of the season. Both racers are veterans of the winners circle but it's a race and anything can happen. The red light bug would now hit Carey Cable Sr. going -.011 red on the hit and Hurst .021 10.083 @ 133 motors his way to the winners circle where much of the 10.0 class surrounded him for congratulations, this is a fine group of racers and friends and John Hurst's win was a great moment for all involved.
The The C2it Enterprises 12.0 Index Qualifying Sessions: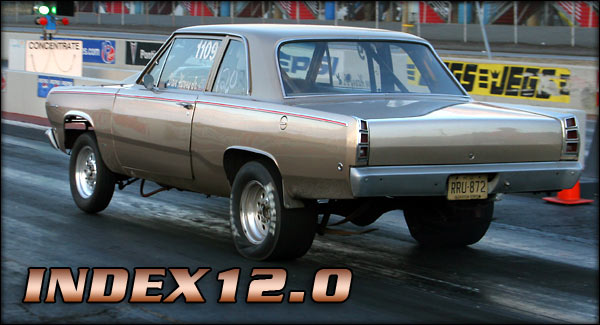 Since this race format's inception and the addition of points awards as with the 10.0 Index, it's grown with leaps and bounds but has become a tough class t be in most times, bump spots are intimidating but this is what the racers love to see. You almost have a feel for the same racing as Quick 8's but at a slower pace which makes a twelve second driver feel as important as a seven second driver. The appeal is always there for winning this class with stock looking cars and talent behind the wheel. As with most of the races throughout the season, the 12.0 index was full and an all run field was chosen just two cars shy of the thirty two car goal. Ben Wetzel was the number one qualifier and the only one with double "0" digits at 12.002 @ 111, Walt "Hemi" Haas sat second in the single "0"'s 12.016 @ 103 and our "First Lady" of the Index Barbara Lutz holding onto third place 12.018 @ 102. Kevin Walsh was back in the mix running his Plymouth up from Maryland for the festivities, Steve Gurnick, "have gas will race" seems to be his motto as he treks up from Delaware. John Stankunas with his red Chevelle was sparkling and running impressively .Notables included the Harvey's, all three of them making the field David Jr, Dave III, and Jim sitting at number sixteen.
Click Here For The Full Qualifying Results via Compulink Race Stats:
C2it Enterprises 12.0 Index Eliminations Round One:

Rich Smith opened the sessions facing Michael Baez to begin the feature. Both had break out runs with Smith .064 11.97 @ 101 over Baez .090 11.878 @ 108. Nick Berti romped on the big Galaxie to a winning time of .021 12.121 @ 97 over Ted Hryzcyszyn .211 12.104 @ 110. John Stankunas put himself out of the running pulling the red light ticket -.060 against Walt Haas .019 12.031 @ 112. Ed Stoltz had the same help from the tree as Donald Riley went red -.280 giving the victory over to Stoltz 11.602 @ 101. James Redner entered into the beams and was faced with a "Deep Stage" foul While Bill Patahous takes a win .188 12.889 @ 73. Ralph Shaw paired with Steve Gurnick both on a good run Gurnick .088 12.207 @ 92 was the winner over Shaw .132 12.311 @ 108. Mathew Meyer also staged in too deep causing a "Deep Stage" foul to incur while Kevin Walsh takes his Road Runner on an excellent packaged winning pass .048 12.003 @ 113. Mike Delorenzo yet quicker than Dave Harvey III took his loss .135 12.011 @ 107 via Harvey's holeshot .019 12.100 @ 104. Steve Demaria .100 12.205 @ 99 took his win against Joe Henderson .103 12.423 @ 107, David Harvey Jr. had Marcus Thompson go red -.063, Harvey drops a .012 12.039 @ 104 on the compulink screen. The closest race of the rounds came when Barbara Lutz faced Jim Harvey. Lutz .055 12.088 @ 107 wasn't enough against Harvey's .045 12.066 @ 107. Lynn Townes, Ben Wetzel, and John Hatch all have a bye run to round two.
C2it Enterprises 12.0 Index Eliminations Round Two:

Kevin Walsh usually great on the tree wound up with a "Deep Stage" foul on in his lane giving the race up to Lynn Townes .018 12.165 @ 98. Ben Wetzel .024 12.036 @ 110 had more than Rich Smith on his losing pass .056 12.044 @ 104. Steve Demaria's numbers were good and quicker .081 12.043 @ 111 but couldn't get by the holeshot of Nick Berti .018 12.090 @ 108. Ed Stoltz suffered an extremely slow reaction time to lose and break out .253 11.710 @ 94 against David Harvey III's great set of numbers .025 12.060 @ 104. Bill Patahous would also see the same result as Stoltz with a slow reaction time and trying to make up the number .198 11.863 @ 107 against a formidable David Harvey Jr. .032 12.059 @ 100. The two cagey veterans Steve Gurnick and Walt Haas would up in the second round. Gurnick put together a sweet run .046 12.085 @ 108 to oust another favorite to win Walt Haas .003 12.129 @ 105. John Hatch in his little black convertible Mustang .058 12.190 @ 110 went home early against Jim Harvey .029 12.107 @ 101 t end this session of rounds.
C2it Enterprises 12.0 Index Eliminations Round Three:

Steve Gurnick singles his way into the Semi finals by way of a bye run. David Harvey Jr. put together an almost unbeatable package of .004 12.061 @ 98 against the losing Ben Wetzel .026 12.051 @ 110. Nick Berti also forced the breakout by dropping a .003 12.012 @ 11 on the books as David Harvey III had no choice but to try and run him down .041 11.965 @ 108. Lynn Townes was quicker .037 12.045 @ 105 but Jim Harvey had his holeshot .011 12.057 @ 110 to get him to the next round.
C2it Enterprises 12.0 Index Eliminations Semi Finals:

This round included some tight drivers lining up as the sun set on the asphalt of Atco Raceway. No red lights in this round, just four drivers looking for that final seat at the end of the night as the chill in the air came in so did the performance rise that comes with it. Both Nick Berti and Steve Gurnick had their game plan set. Berti .016 would take the tree over Gurnick .027 but the Galaxie of Berti had a little too much power upstairs breaking out 11.972 @ 110 and Steve Gurnick plays his cards right taking the win away from Berti's brute of a ride with an 11.974 @ 108 shining on the boards. The brothers Harvey knew they would have to meet up, but no love lost as a win light is family fun talk for the one who takes it. Jim Harvey would end up on the losing end as the Camaro had some extra power to make up for the .048 light he cut against a solid .027 by David Harvey Jr., both racers broke out as David Harvey Jr. 11.969 @ 102 would come out the winner over Jim Harvey 11.928 @ 110.
C2it Enterprises 12.0 Index Eliminations Finals:

Again a final is set where both racers are veterans of a winners circle at Atco Raceway, David Harvey Jr. and Steve Gurnick have seen that spot many times. Temps had dropped quite a bit and a match between these two racers would be close and a 50/50 split on most betters tables. Steve Gurnick's Chevy powered Mustang against the little all Mopar Valiant would be a sweet end to the night. Gurnick is late .061 to Harvey's .022, a race ensues but Gurnick is just too fast losing while breaking out 11.986 @ 109 and Harvey taking the stripe and the victory named as new 12.0 Index Season Finale' champ 12.076 @ 97. Congratulations on a long day of impressive rounds to David Harvey Jr.
Sunday Wrap Up:

Though the morning was warming and crisp to begin the racing, the Atco surface was a bit clean after the rains the day earlier as it came around fast and the cars also enjoyed the hook. The unusually warm November day was pleasing from a spectators point as the race was run under near perfect conditions. The skies turned from azure blue to a beautiful harvest orange as the sun sets on Atco in the fall with barbeques firing away in the pits the racers had their final meet and race of the season in a laid back manner of enjoying the company and the competition as night fell.

The pits emptied racers and teams headed to the Winners Circle Lounge for some libations and recaps of their own season. As I left, the loud click of the main power source sent a chill up my spine as I packed up my gear and set on my way home. As this was only my third race of the year, I was fully satisfied again at the contagious race fever that was felt in my blood. My year ends on a high note with some major thanks to Jack Stiles for help me out personally with added photos and Seth from GoneDragRacing for the sideline access and Atco Raceway's fine staff on both the track and the tower. Here's to a great off season for all in the Northeast.
July 26th, 2008: Pinks! All Out Englishtown
Speed brings the show to Raceway Park
Rich Christensen, Nate & Adam Pritchett, and the whole Pullin TV Staff brought the popular Pinks! All Out event to Englishtown Raceway Park on July 26th, 2008. Many of the GDR regulars made the event, trying to get into the final show and win the big cash prize that Speed TV puts up. Hundreds of cars battled to make it to the sweet 16, two of those making it to the final 16 was our very own Chris Ely and Harry Weber.




Detailed news along with pictures and videos from the race can be found in our forums by clicking here.









Site Map Navigation